INTEGRATING SUPPLY CHAIN AND TRAINING OPERATIONS
Downrange builds turn-key solutions to deliver logistic resources and services including in-country tailored training for end users.
PLAN YOUR OPERATIONAL REQUIREMENTS
Integrate our staff to create a planning team who share objectives and bring the correct skills and knowledge to deliver a successful project.
Need more information? Call our sales & support team at (601) 914-6776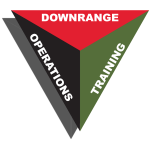 More than a decade supporting government clients and partners in attaining their objectives.
© 2019 Copyright Downrange Operations and Training, LLC. All rights reserved.